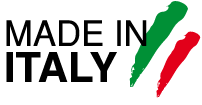 DESCRIPTION
FULLY EQUIPPED AQUARIUM,
includes all components required to recreate and maintain optimal conditions for the life of the aquarium's inhabitants:
NEWA MIRABELLO YOUNG: Aqua filter: compact internal corner filter
NEWA MIRABELLO YOUNG-MF: complete filter NEWA Mirafilter included
Top quality LED lighting system, perfectly isolated from the water, which offers very effective and long-lasting luminous contribution. The brightness of the LEDs ensures constant growth of the aquarium flora and well-being of the animals inside.
DESIGN:
the refinement of its basic, modern lines, underscored by a new back lit lid, allows NEWA MIRABELLO young to fully integrate into all types of furnishings.
EASY CLEANING AND MAINTENANCE:
Simply open the aquarium lid to access and remove the filter. The disposable cartridges are easy to separate, clean, increase or replace.
SAFE AND RELIABLE:
4mm-thick glass tank, sealed with high-quality silicone. Each tank and electrical accessory is checked,tested and manufactured according to the highest international safety standards.
Additional information
| | |
| --- | --- |
| Abbinamento | NEWA Mechanic chronos, NEWA Wind |
| Applicazioni | fresh_water |
| Caratteristiche | 3_stage_fltration, high_power_led, adjustable_flow, aeration_feature, energy_saving, ready_and_easy_to_use |
| Certificazioni | Certificazione CE, certificazioni_tuv_gs_newa_mirabello-young |
| Correlati | NEWA Hobby, NEWA More, NEWA More caridinae, NEWA More reef |
| Italy | made-in-italy |
| Vtp | MIR 30 young, MIR 30 young-MF, MIR 30W young, MIR 30W young-MF, MIR 60 young, MIR 60 young-MF |
PROFESSIONAL LED LIGHTING SYSTEM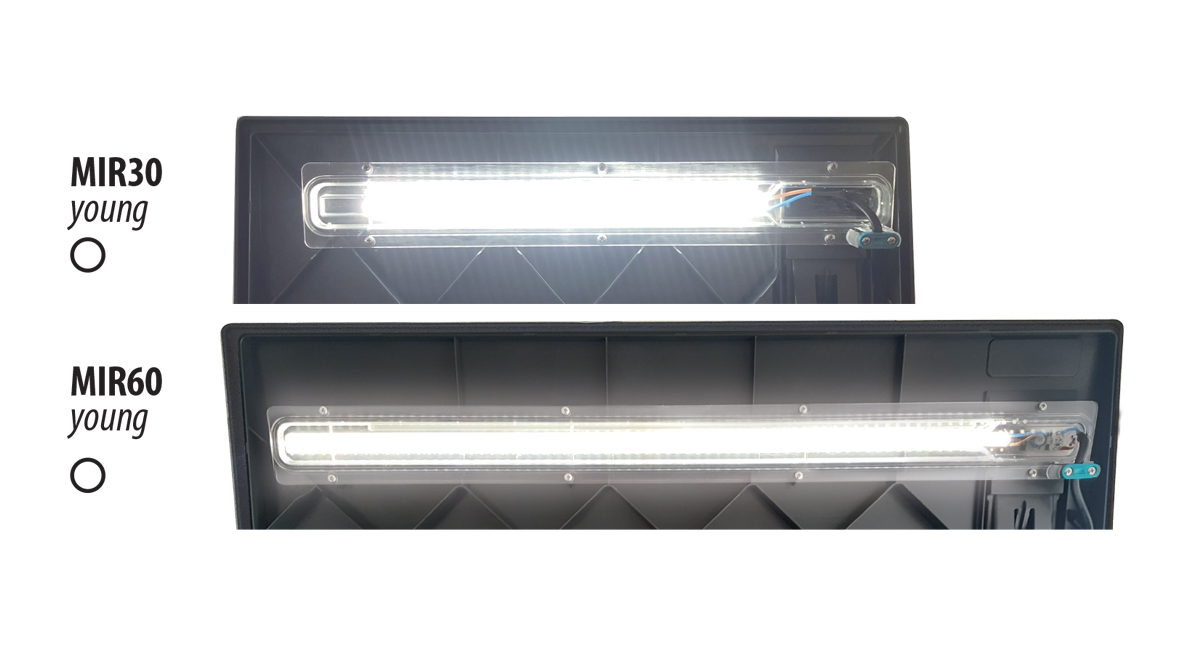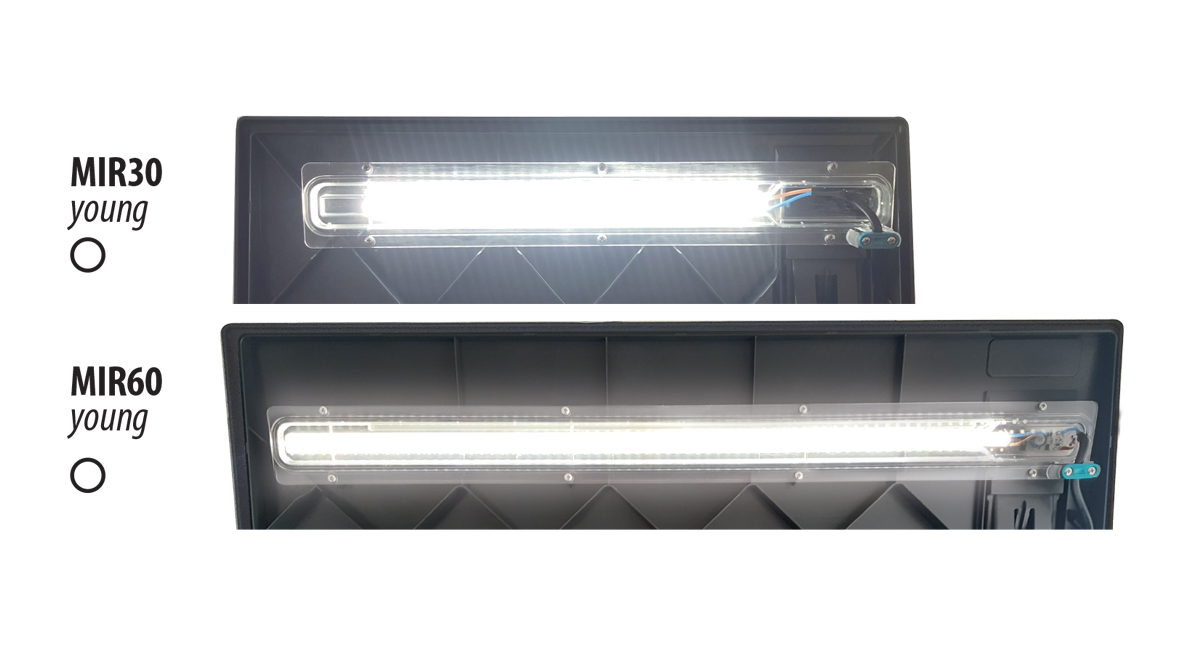 LED with high luminous efficiency (lumen/watt), optimal color temperature (K) and wide light spectrum. Perfectly isolated from the water.
OPTIONAL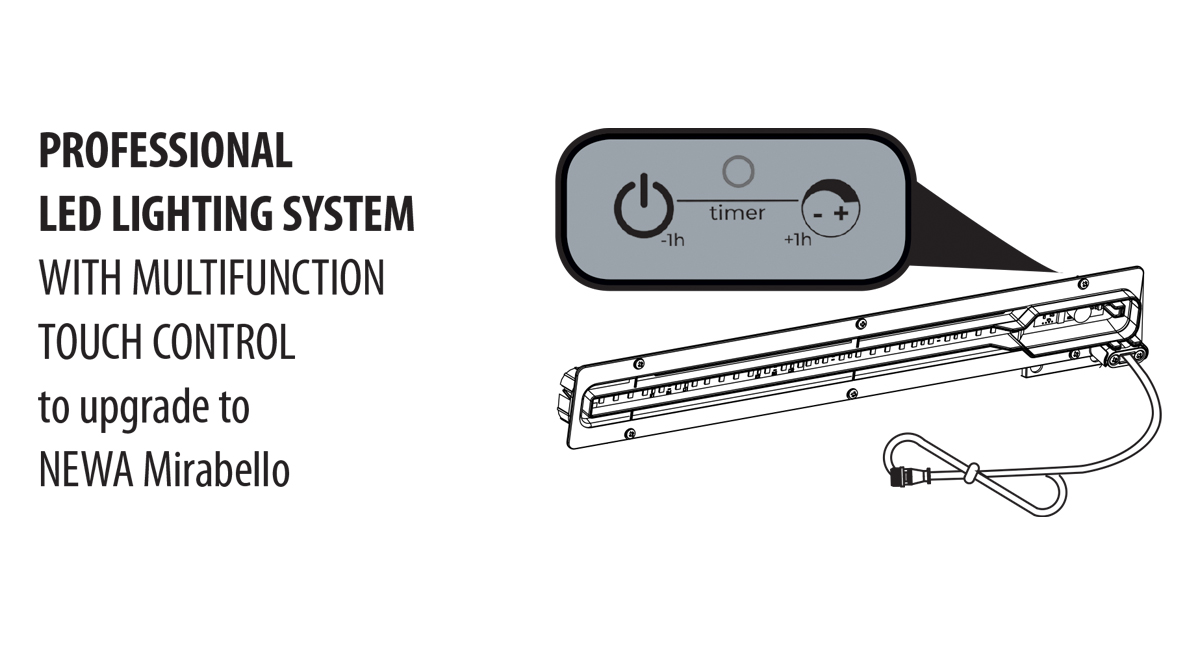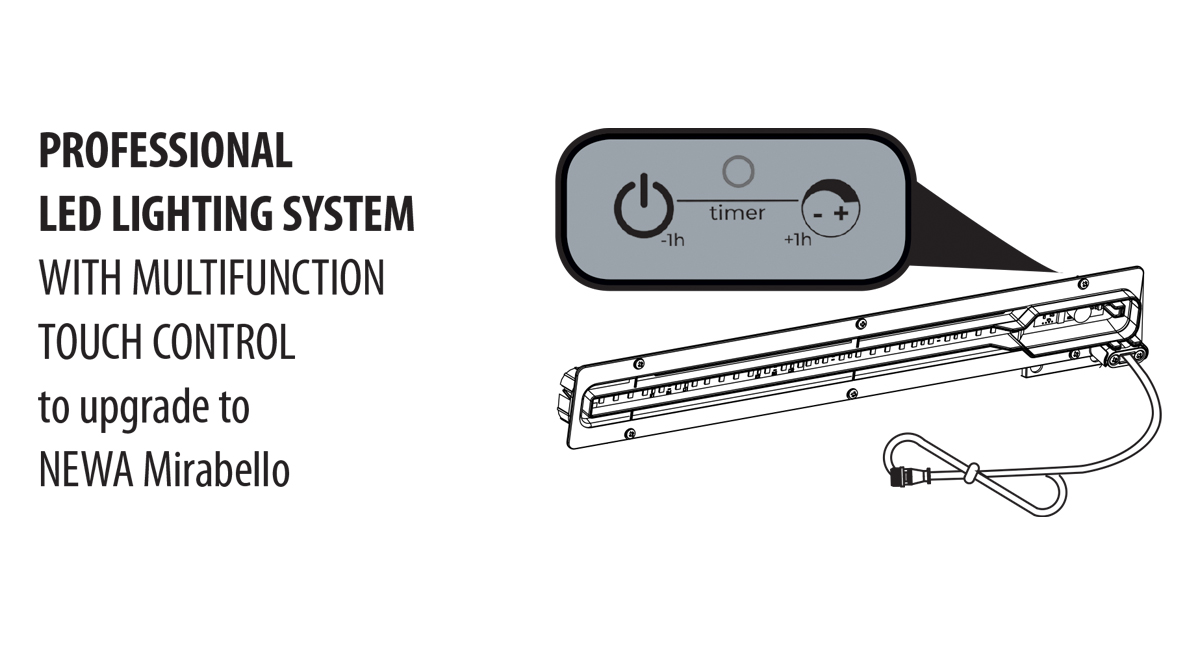 Possibility to upgrade to the new professional NEWA Mirabello lighting system
NEWA MIRABELLO young – FILTERING SYSTEM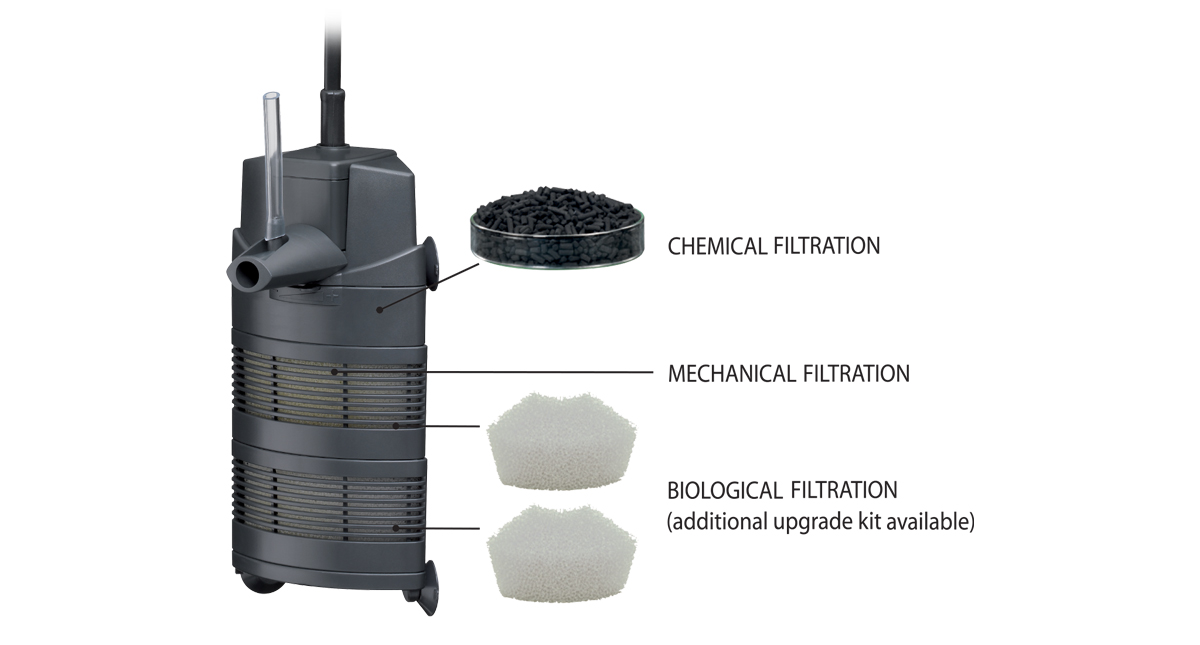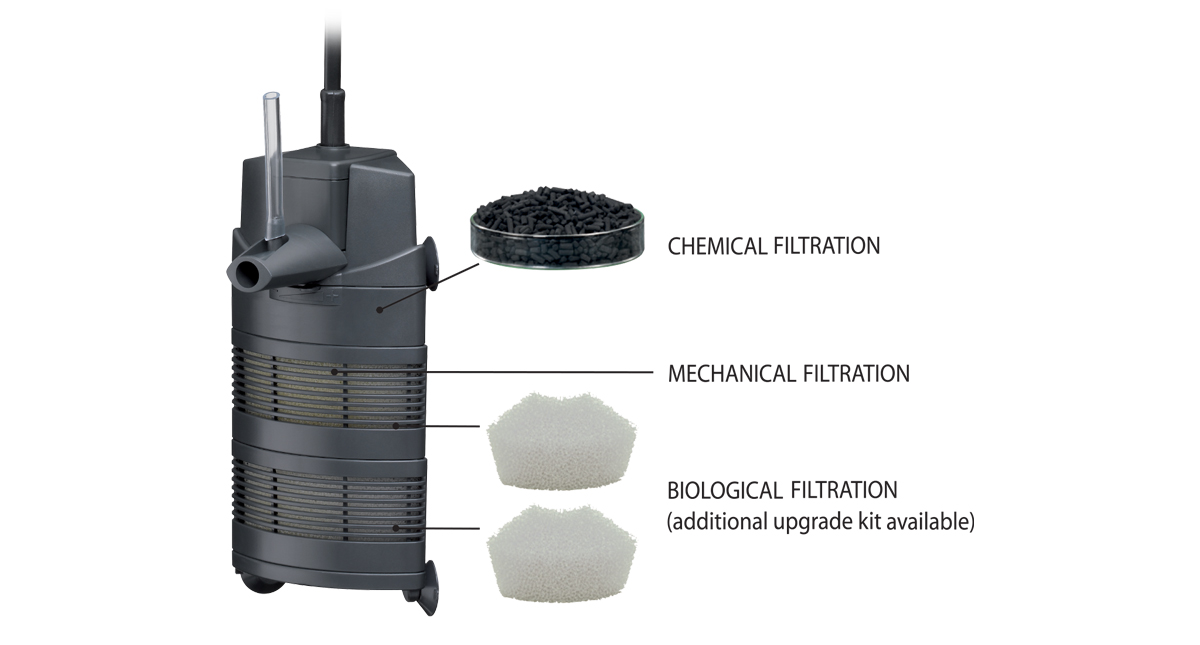 Aqua: powerful and effective modular filtering system with large anti-clogging intake grids for ideal water circulation: intake from the bottom part and outlet on the surface. This ensures a complete bio-chemical-purifying treatment for perfectly clean water. Equipped with filter media, powerful pump with adjustable flow rate and built-in aeration system
NEWA MIRABELLO young-MF – FILTERING SYSTEM
NEWA MIRAFILTER: powerful, effective filtering system with large anti-clogging suction grilles for optimal water circulation: suction from below and outlet to surface. This guarantees full bio-chemical purification treatment for completely clean, heated water.
1) NEWA DUETTO REPTO: Submersible pump-filter with adjustable flow rate, adjustable outlet deflector, built-in aeration system and protection against abnormal overheating due to running dry or obstructed rotor.
2) Container for the insertion of special filtering materials from the NEWA Aqua range (resins, charcoal, zeolite), or may be used to enhance biological filtration (sponges, filter media). This is easily removed with the pump.
3) BioFoam™: interchangeable sponge cartridge where, owing to its shape, bacteria essential for biological filtration settle easily and rapidly. This includes a special mount which facilitates removal by simply using two fingers, without touching the water.
4) MechaniChem™: interchangeable cartridge, inside which mechanical and chemical filtration takes place. Extraordinary filtering power is achieved by the synergistic combination of 2 layers of micro-porous fabric interspersed with activated carbon. The internal "inclined plane" structure facilitates contact between the water and the activated carbon. Easily removable because of the mount. Replace every 30-40 days.
NEWA Mirafilter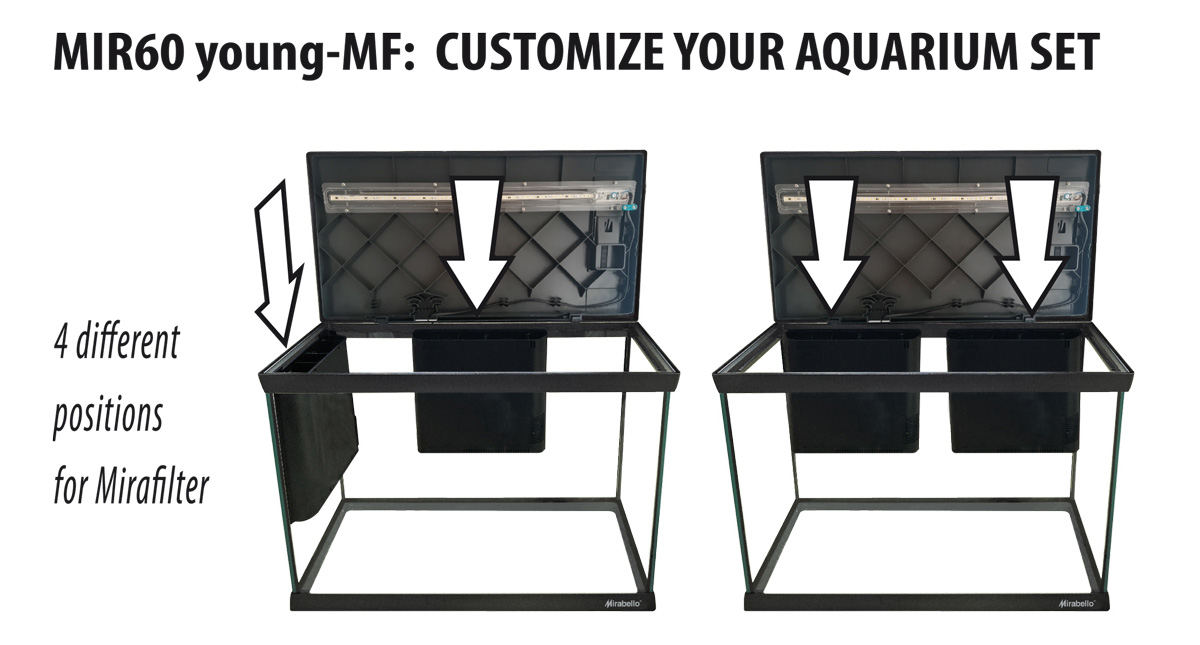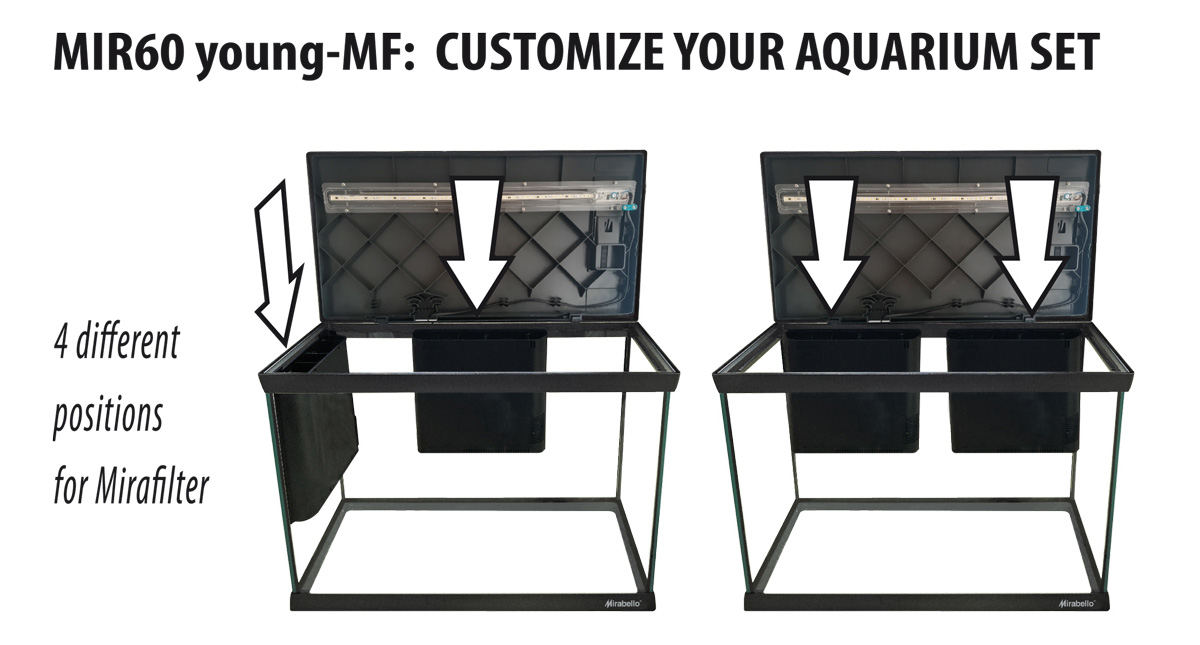 NEWA MIRAFILTER - OPTIONAL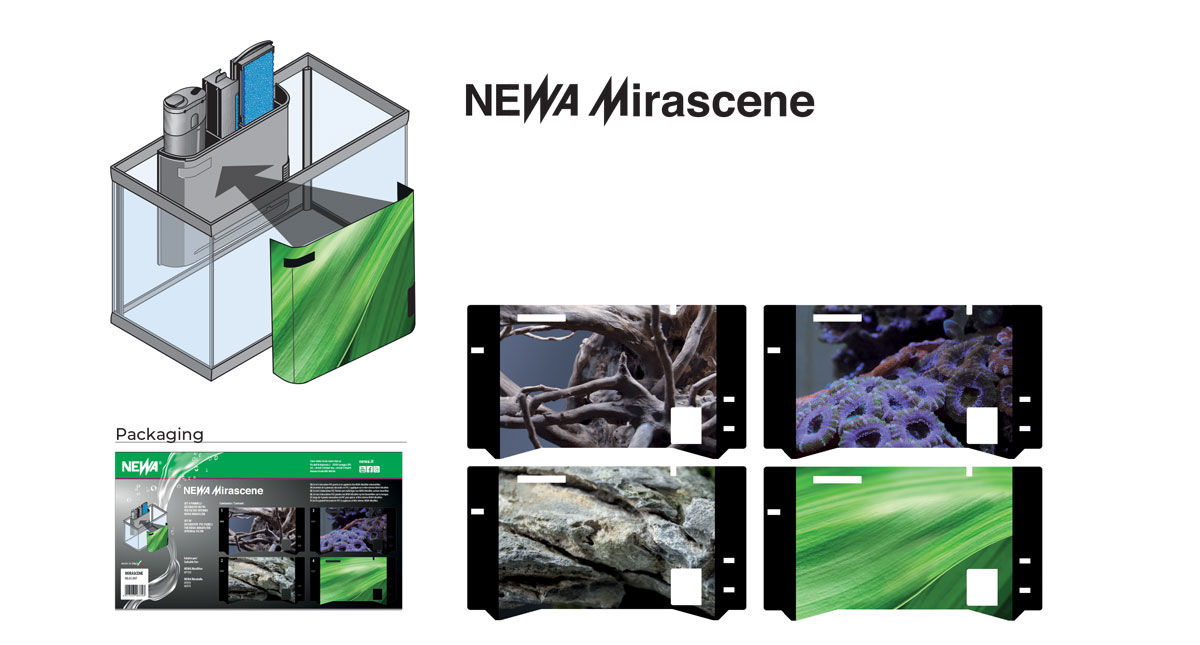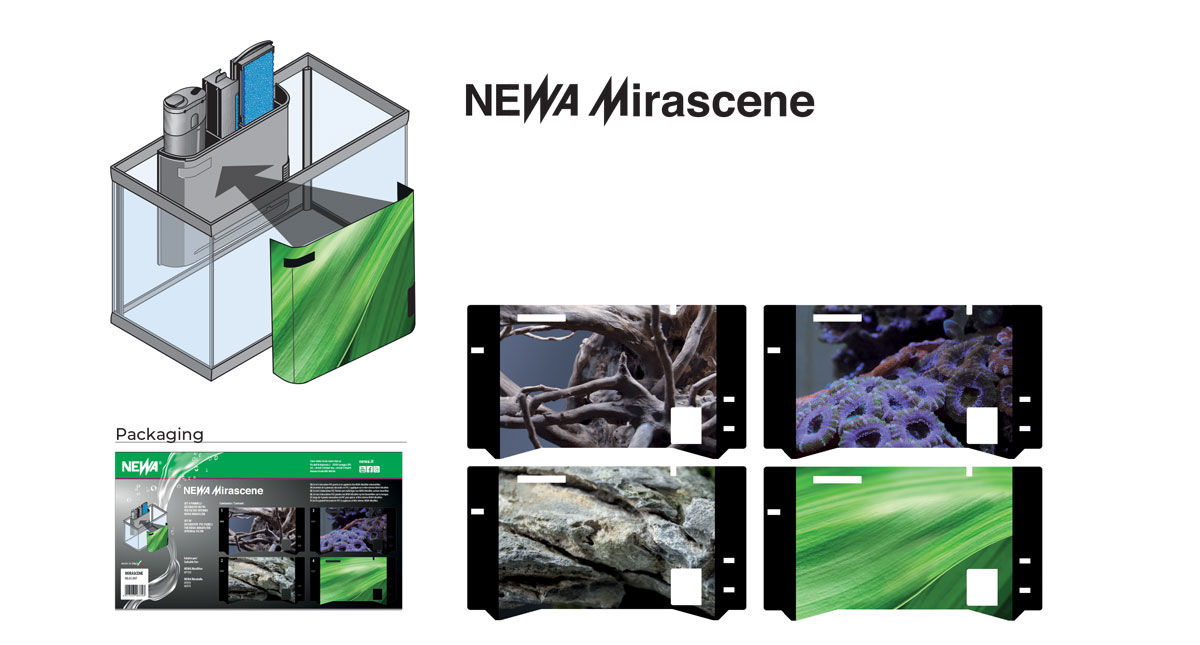 Set of 4 decorative PVC panels to be applied to the NEWA Mirafilter internal filter.
BACKLIT LID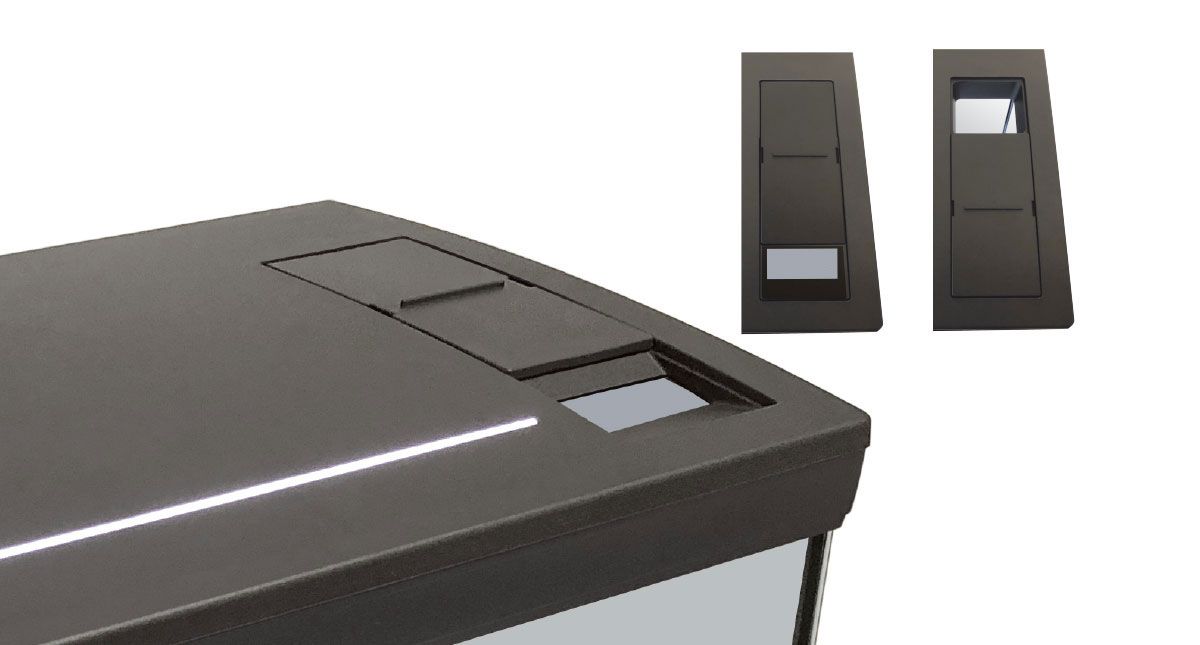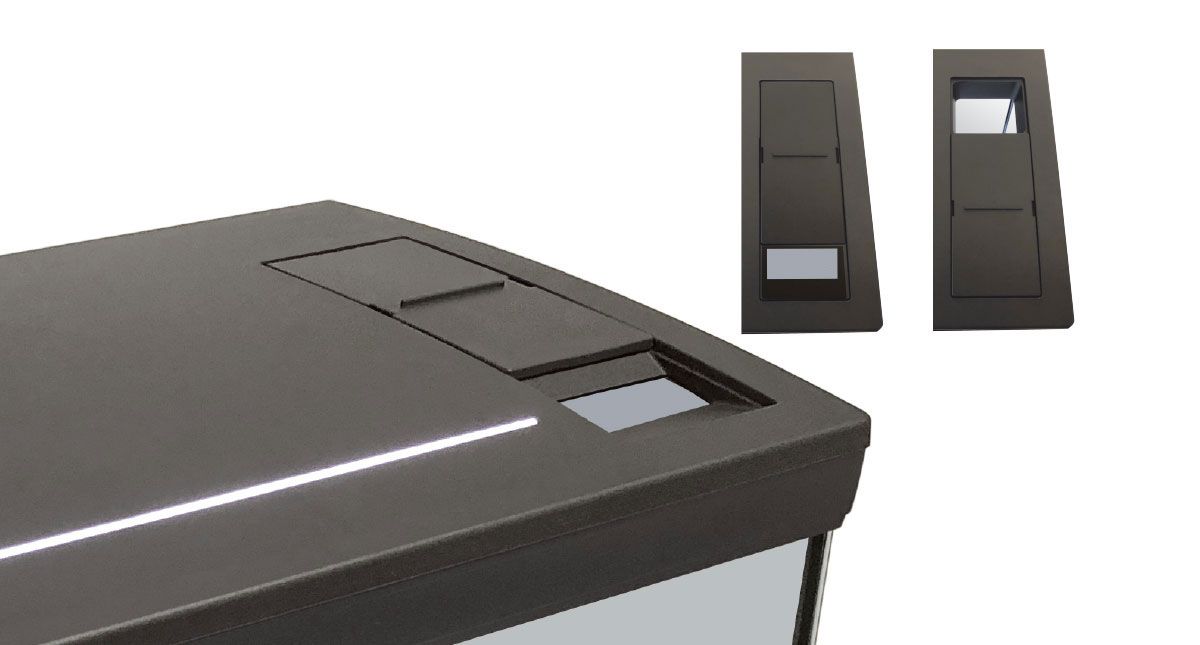 Backlit, hermetically sealed lid with a large sliding opening for feeding purposes or the positioning of an automatic feeder.
MODELS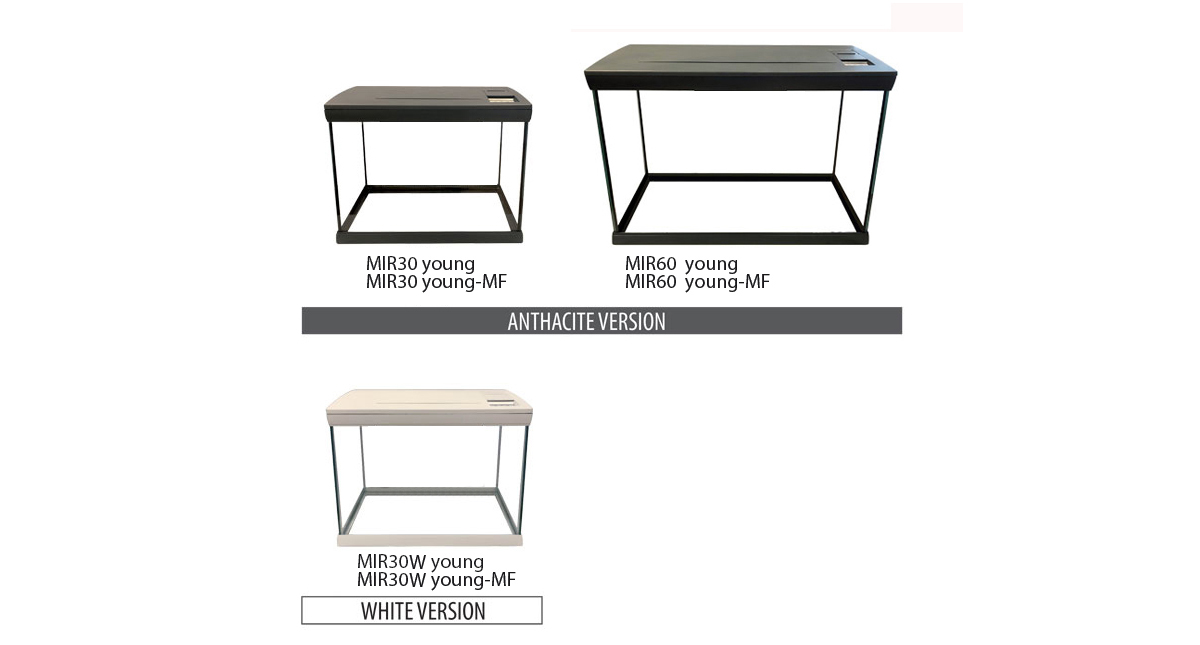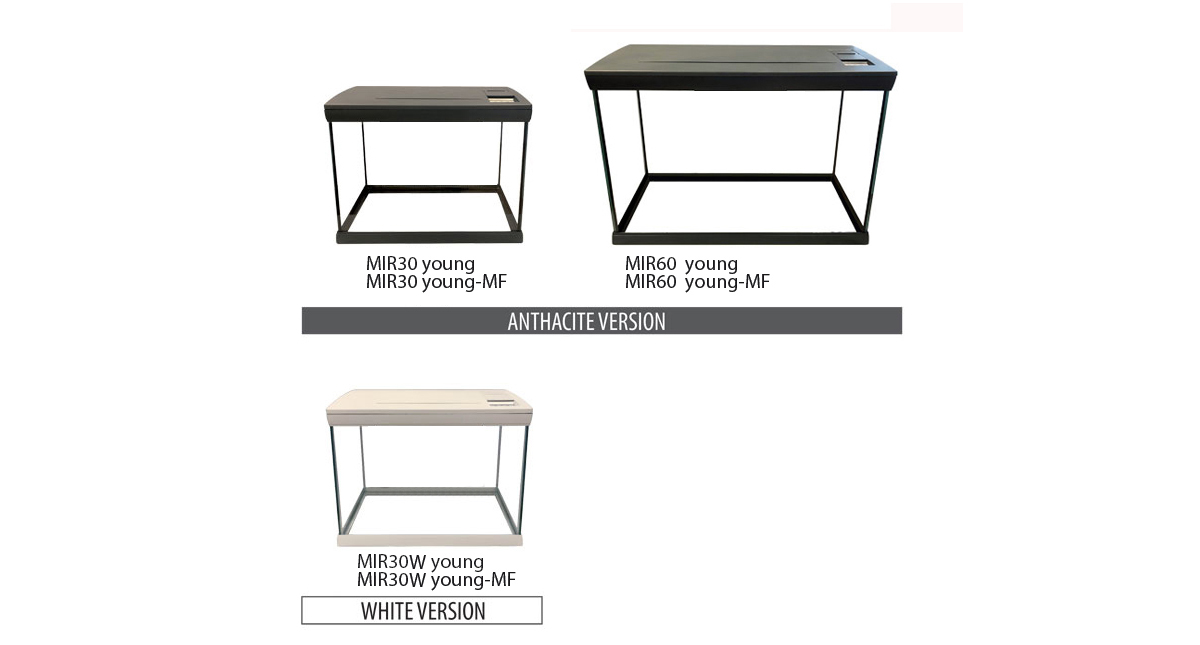 Technical data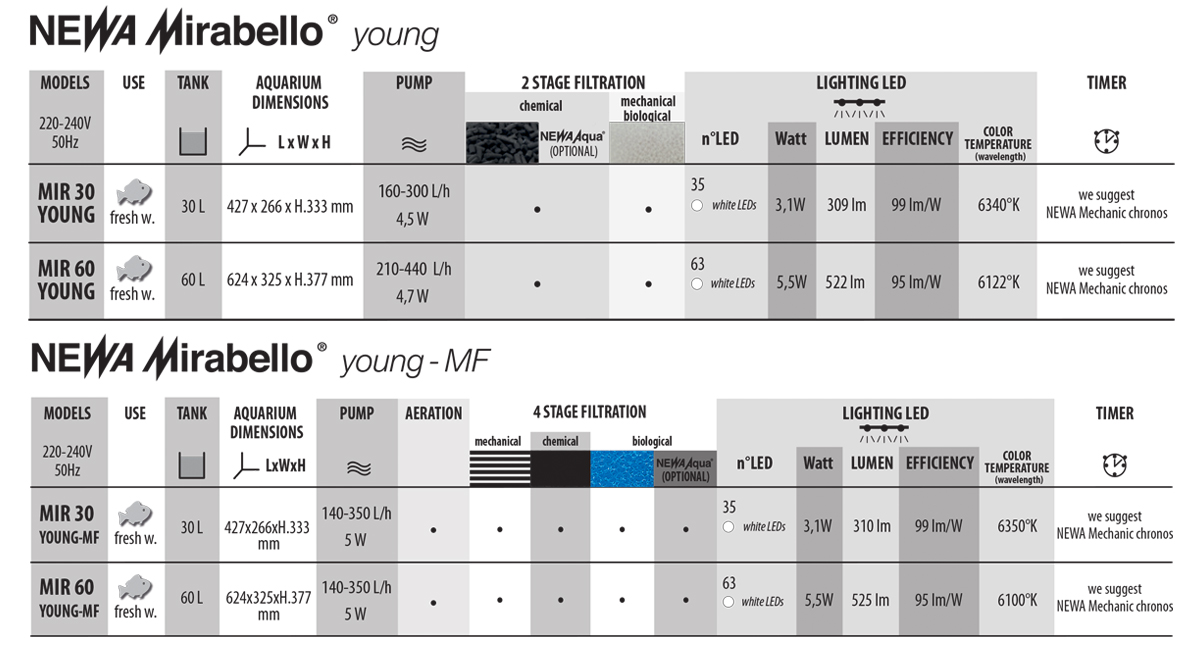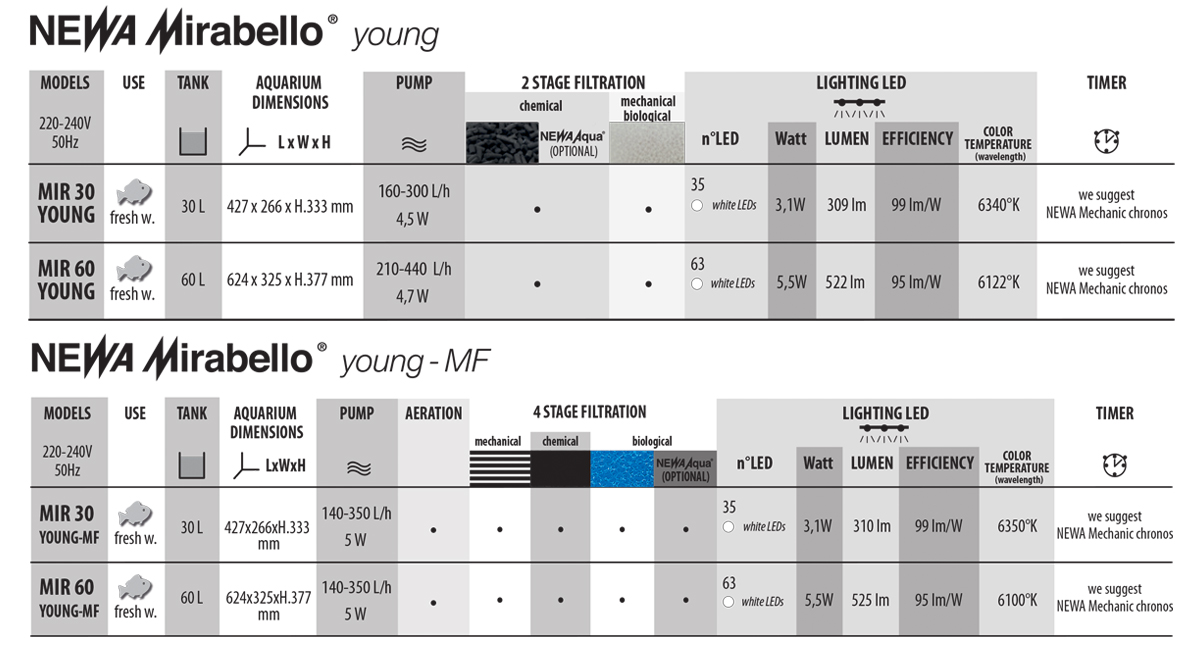 NEWA Mirabello Aquarium stand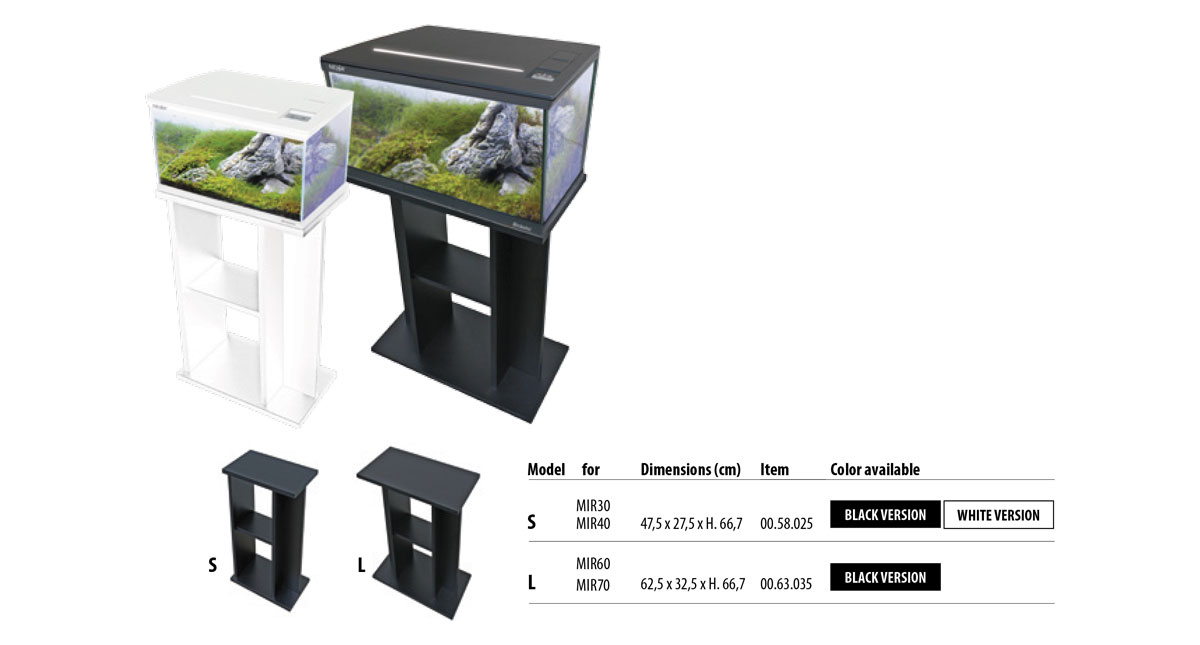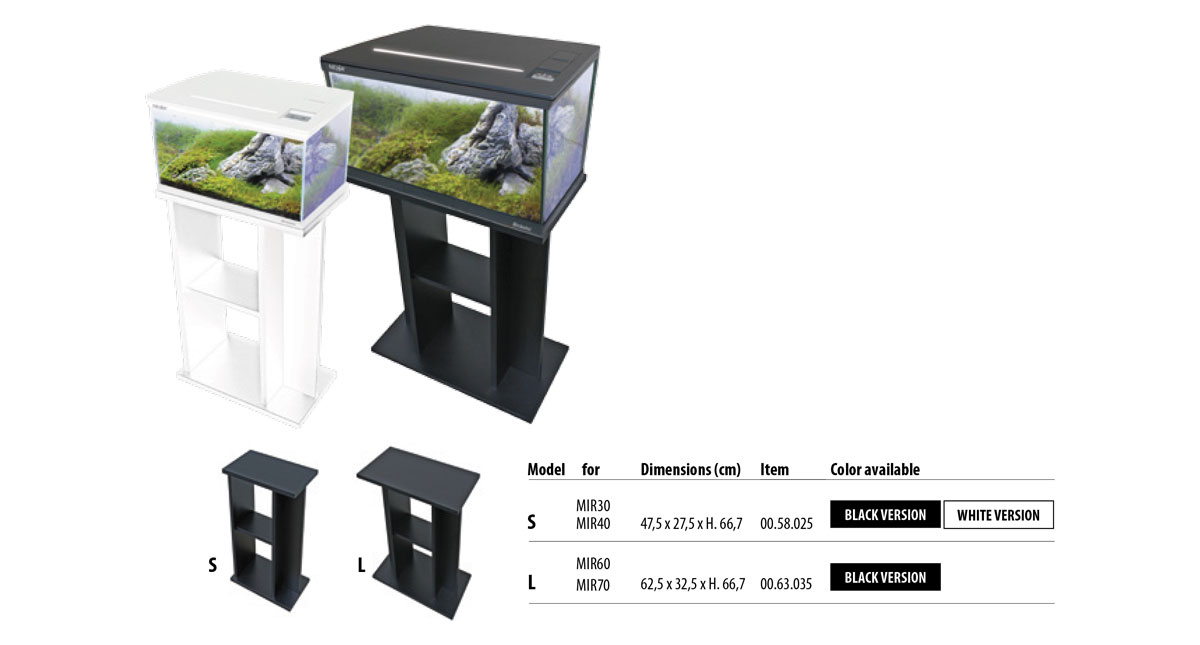 NEWA Mirabello Aquarium stand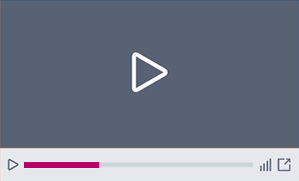 Titolo 01
clicca qui
https://www.youtube.com/embed/slQN0Gj0Eys?autoplay=1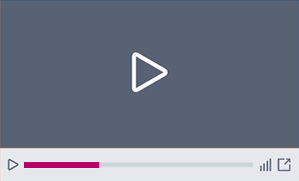 Titolo 02
clicca qui
https://www.youtube.com/embed/slQN0Gj0Eys?autoplay=1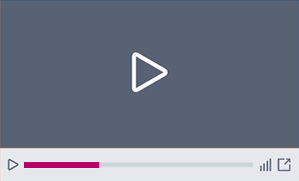 Titolo 03
clicca qui
https://www.youtube.com/embed/slQN0Gj0Eys?autoplay=1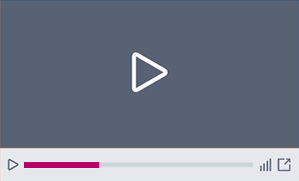 Titolo 04
clicca qui
https://www.youtube.com/embed/slQN0Gj0Eys?autoplay=1