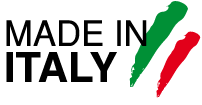 DESCRIPTION
All NEWA More aquariums feature a completely revolutionary patented "filtering system", which in a single unit, includes everything required for the life of aquarium inhabitants.
DESIGN:
the outline refinement and compact dimensions allow NEWA More caridinae aquariums to perfectly match to any kind of furniture, enhancing the brilliancy of the natural scenarios built up.
HIDDEN POWER CORDS:
paying utmost attention to details, NEWA More caridinae filter is designed with a strain relief system and a corner unit putting together the power cords in an orderly manner.
SAFE AND RELIABLE:
Pure plate glass tank sealed with high quality silicone. Each aquarium tank and each electrical appliance is inspected, and manufactured in compliance with the rigorous international safety regulations.
MODELS
Are available the following models:
EASY MAINTENANCE: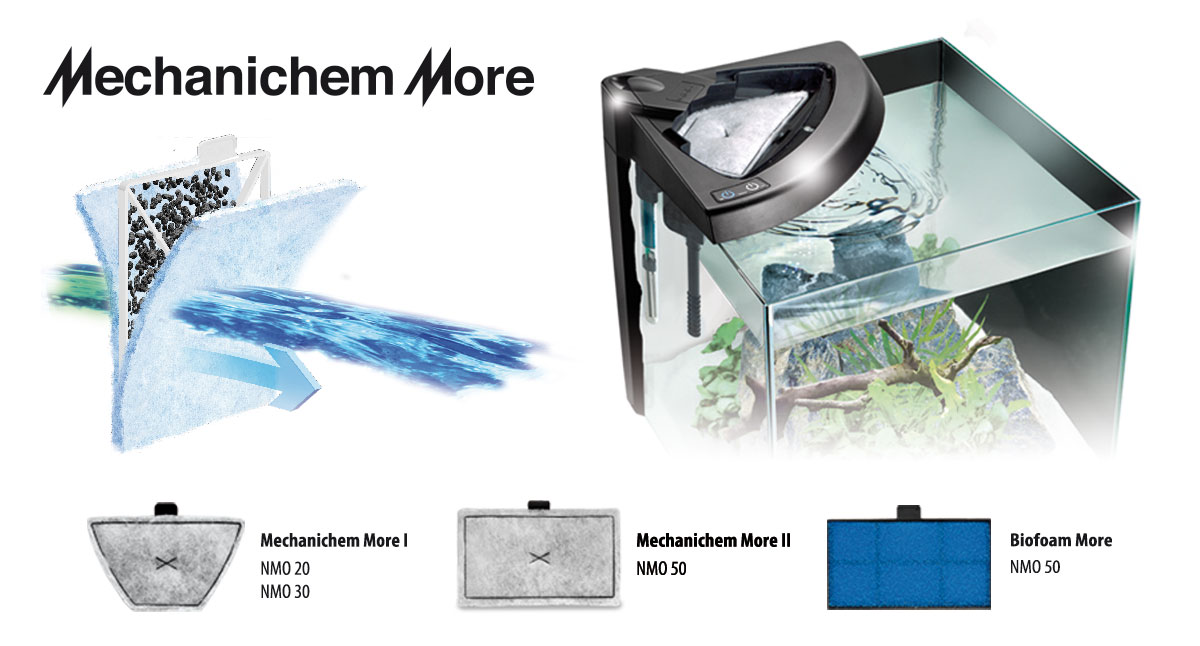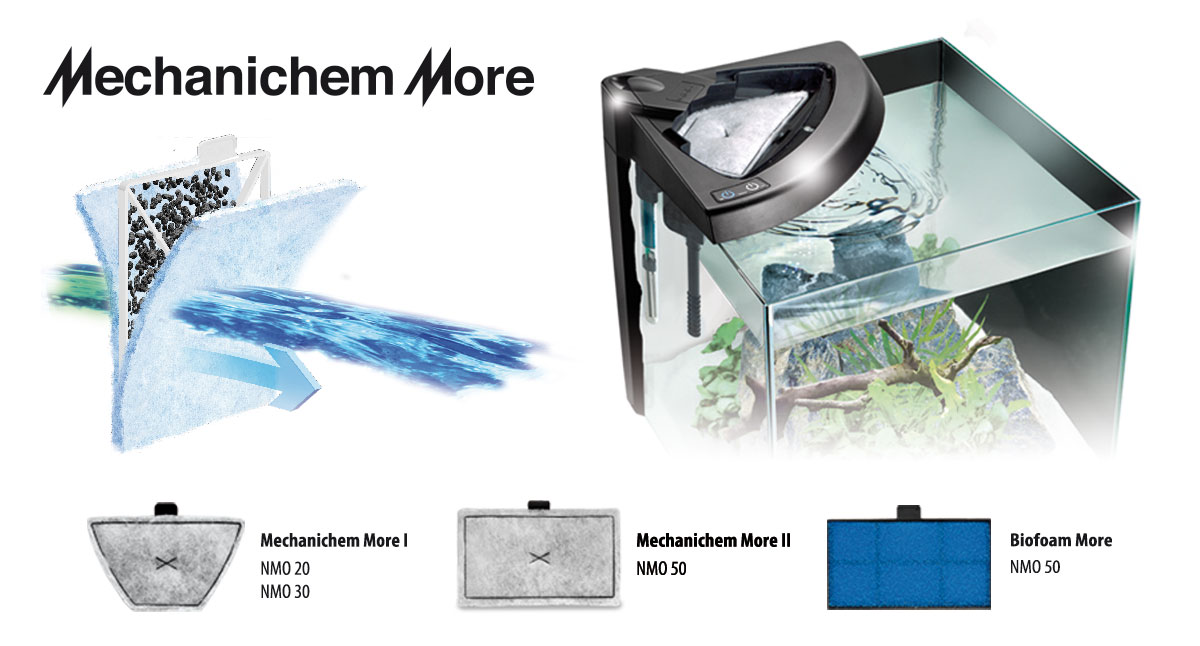 EASY MAINTENANCE: NEWA More caridinae aquariums are provided with a powerful corner filter with disposable cartridges, easy to replace without getting your hands wet. An efficient "over-flow" system guarantees safe functioning even in case of choked cartridges.
Efficient conditioning and touch control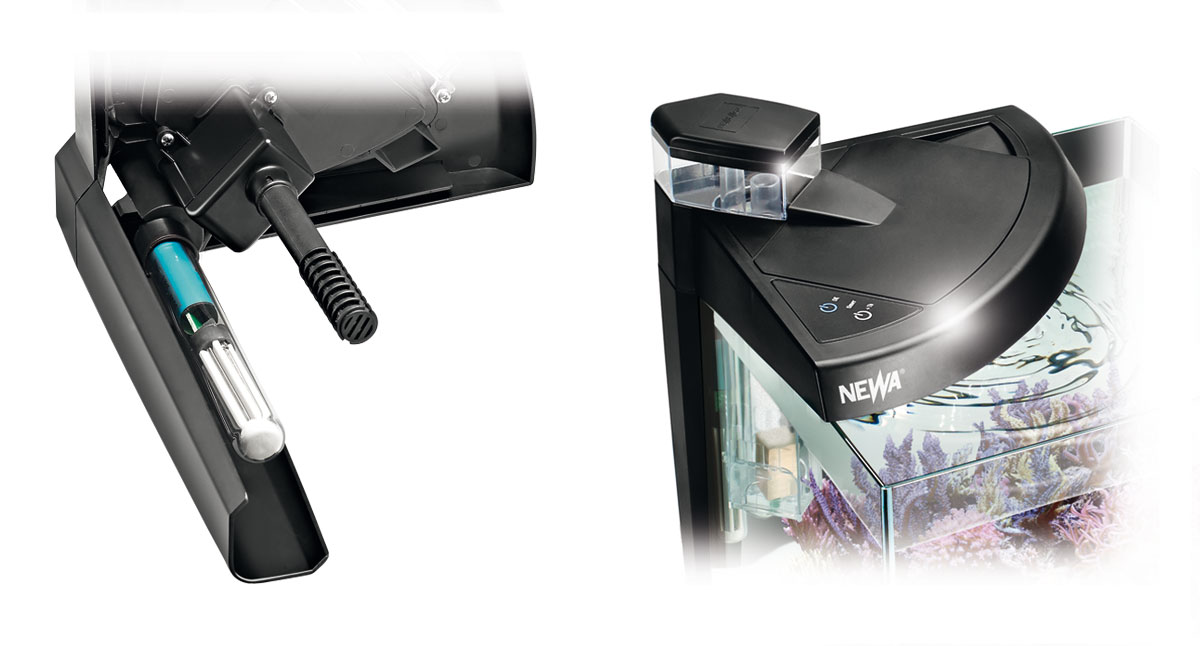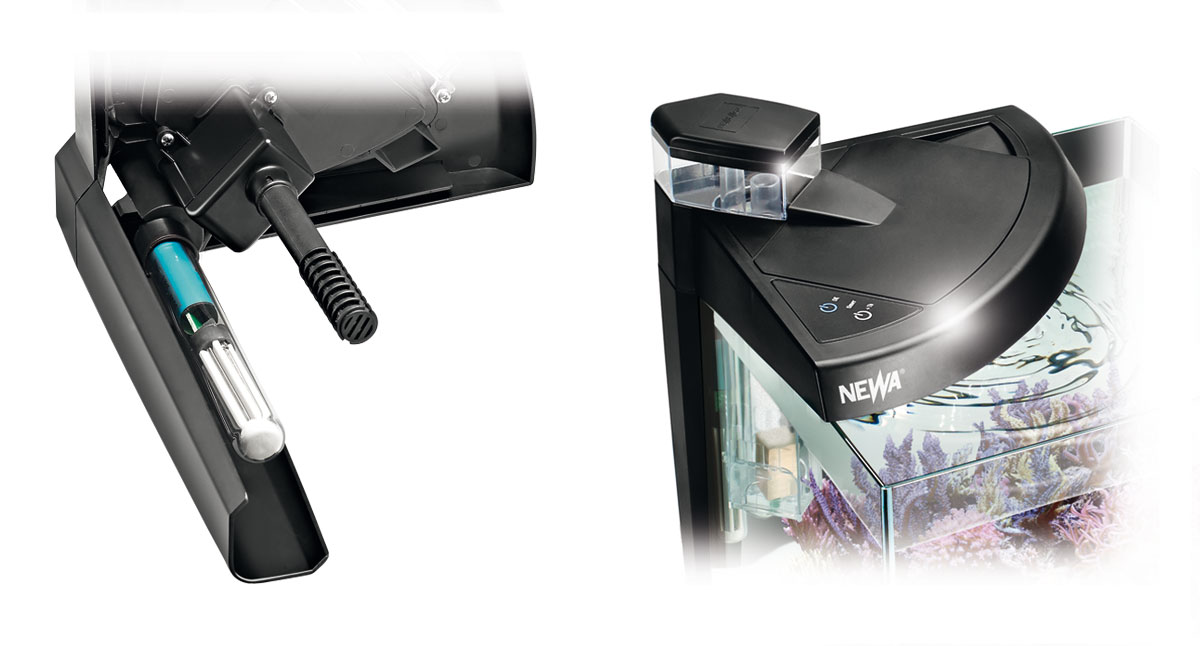 EFFICIENT CONDITIONING: the precise and reliable Newa Therm eco heater ensures keeping of the temperature necessary to recreate the desired natural habitat.
ON/OFF SYSTEM AND TOUCH TIMER: NEWA More caridinae aquariums' lighting system is controlled by switches with touch control for each of the two kind of lights (white and actinic). The timer can be easily programmed for maximum customization (except for model NMO 20).
LIGHTING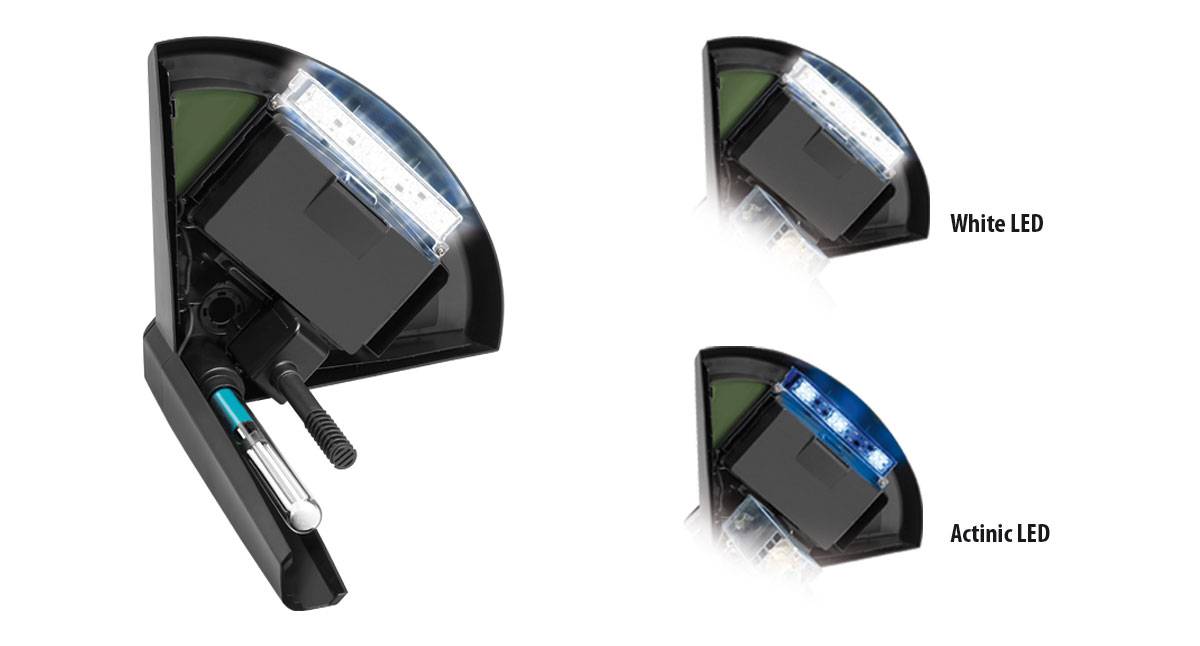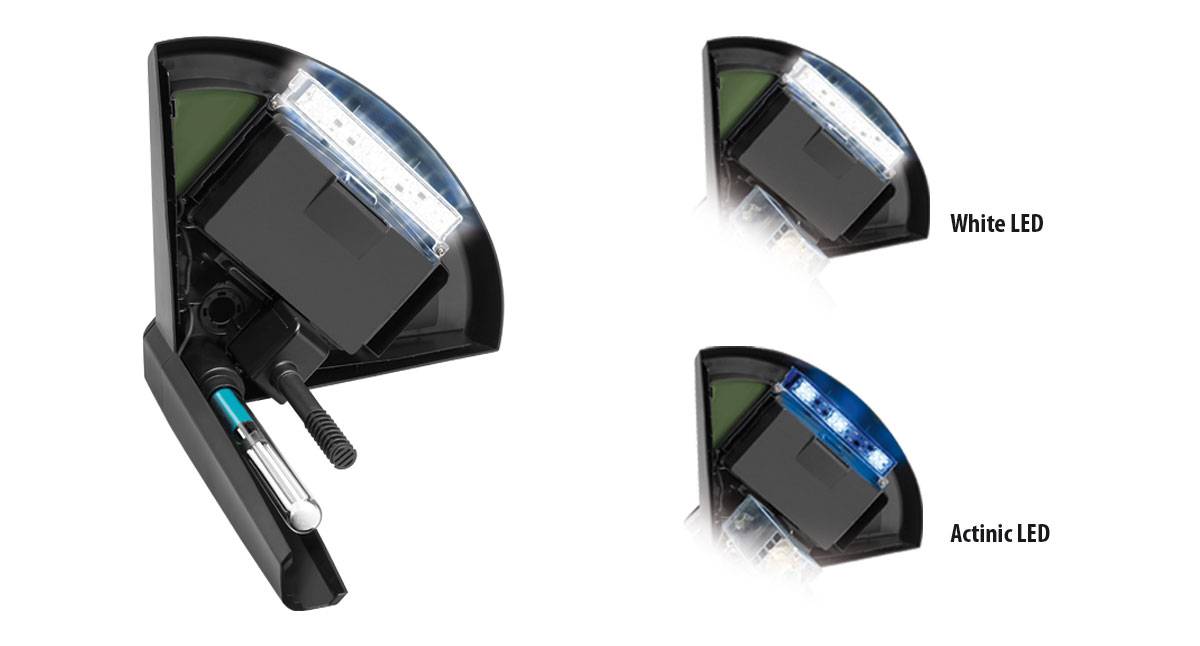 LIGHTING: All NEWA More caridinae aquariums are provided with high quality LED able to guarantee a contribution of light absolutely efficient for a long duration. The brightness of the white and actinic LED ensures a constant growth of the plants and the welfare of the aquarium inhabitants.
NEWA More 20 CRNE technical details: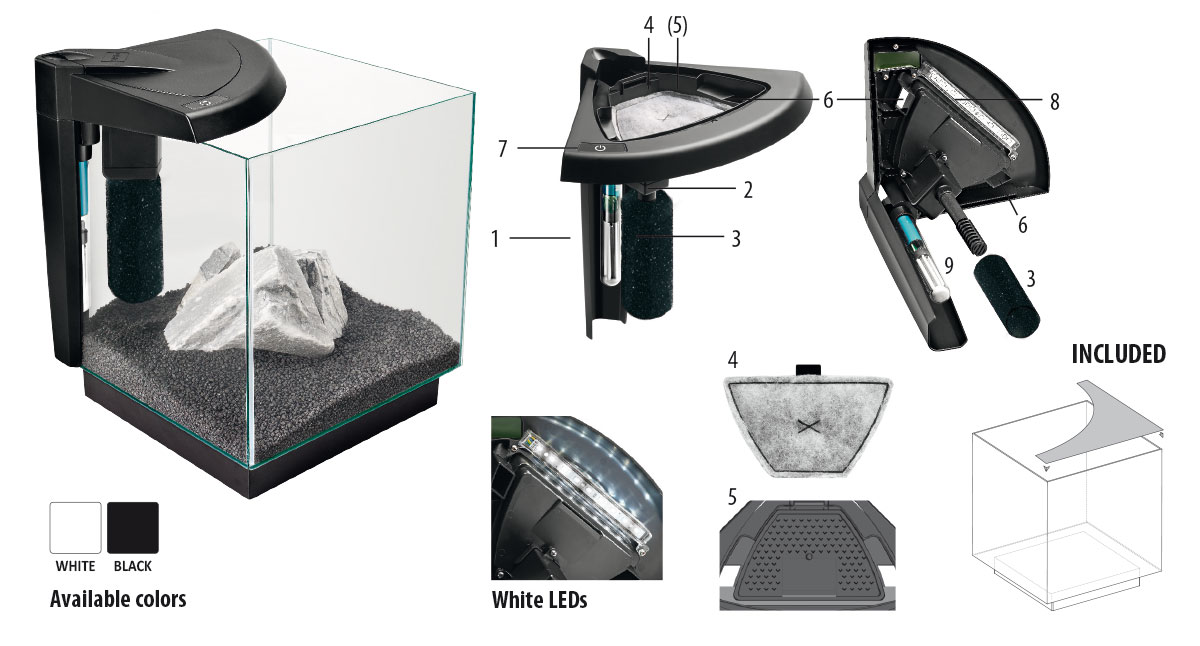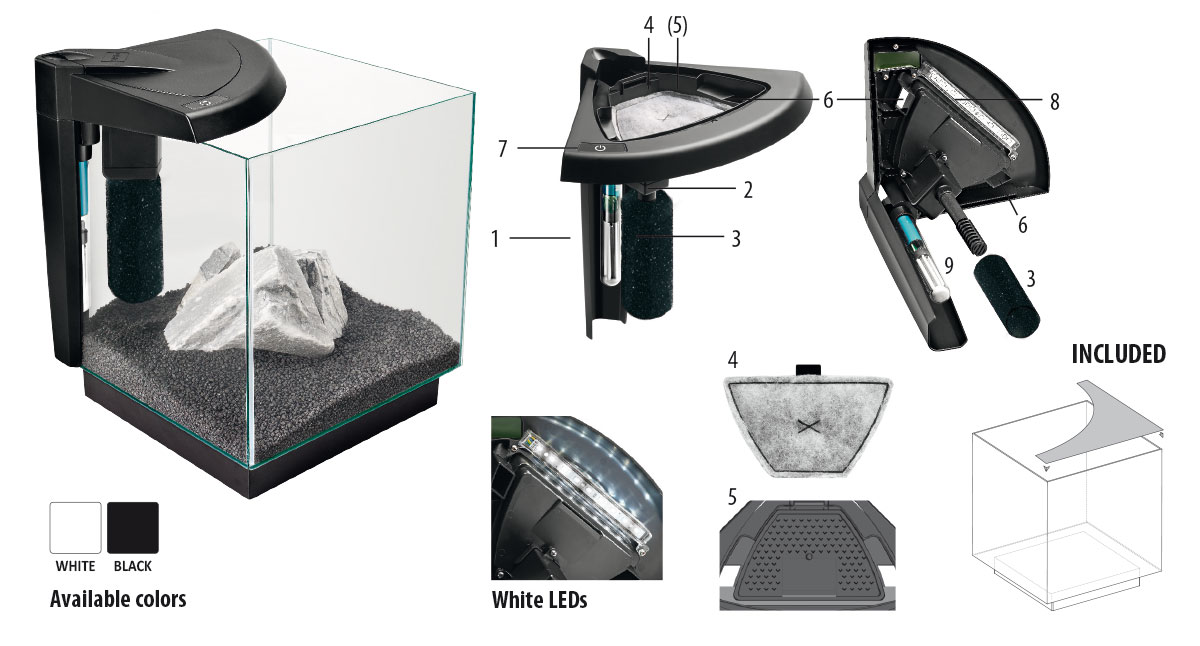 NEWA More 20 CRNE technical details:
1 - Corner profile for concealing power supply cables;
2 - High-performance pump with low consumption;
3 - Water intake strainer with protection sponge;
4 - Disposable cartridge with double filter housing and high-absorption active carbon (Mechanichem More I);
5 - Surface for increasing biological filtration;
6 - "Over-Flow" safety system;
7 - Touch ignition system;
8 - High-efficiency LED Lighting system (white lights);
9 - High-precision heater with easy adjustment.
NEWA More Caridinae Models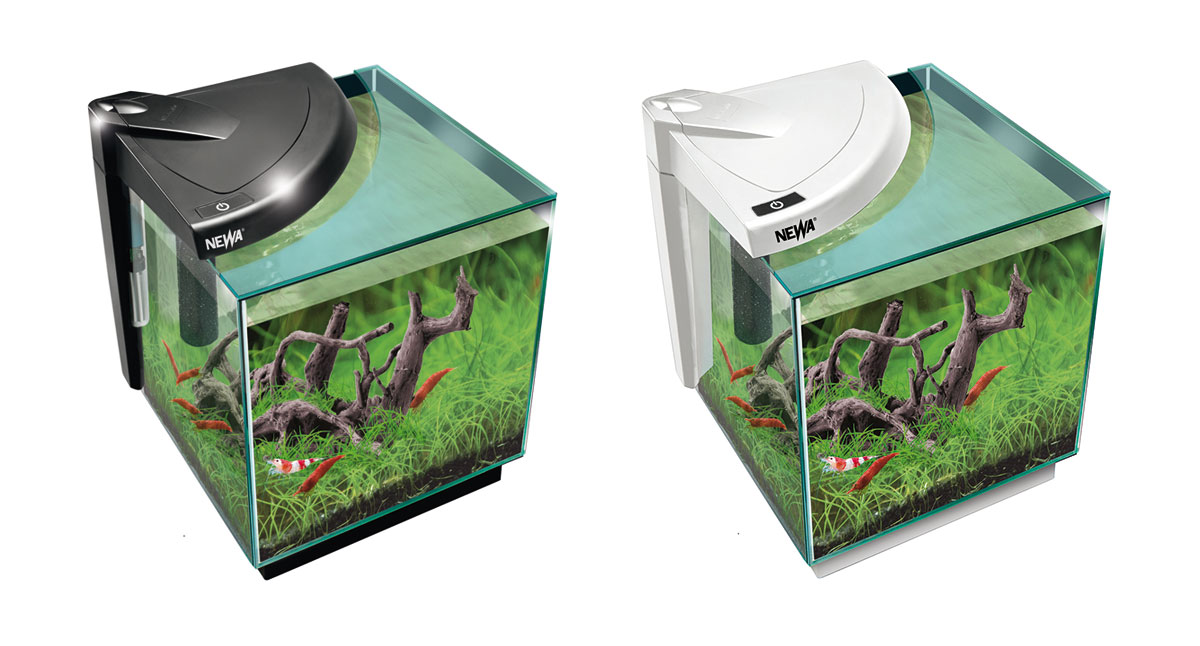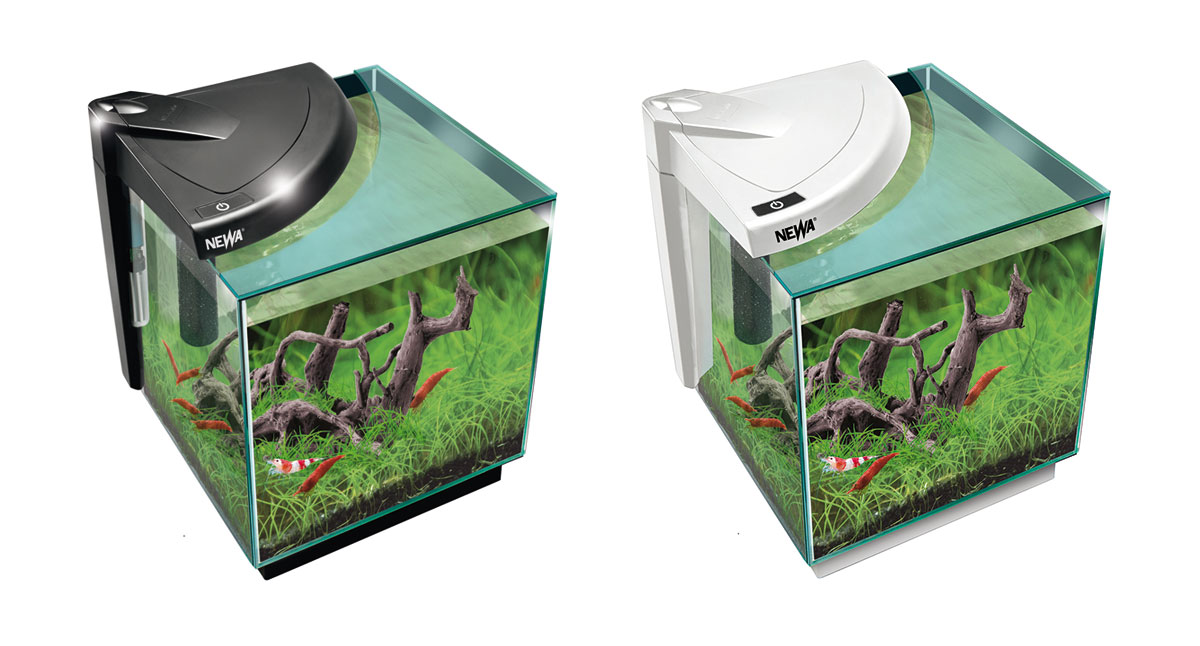 NEWA More Caridinae Models
Technical data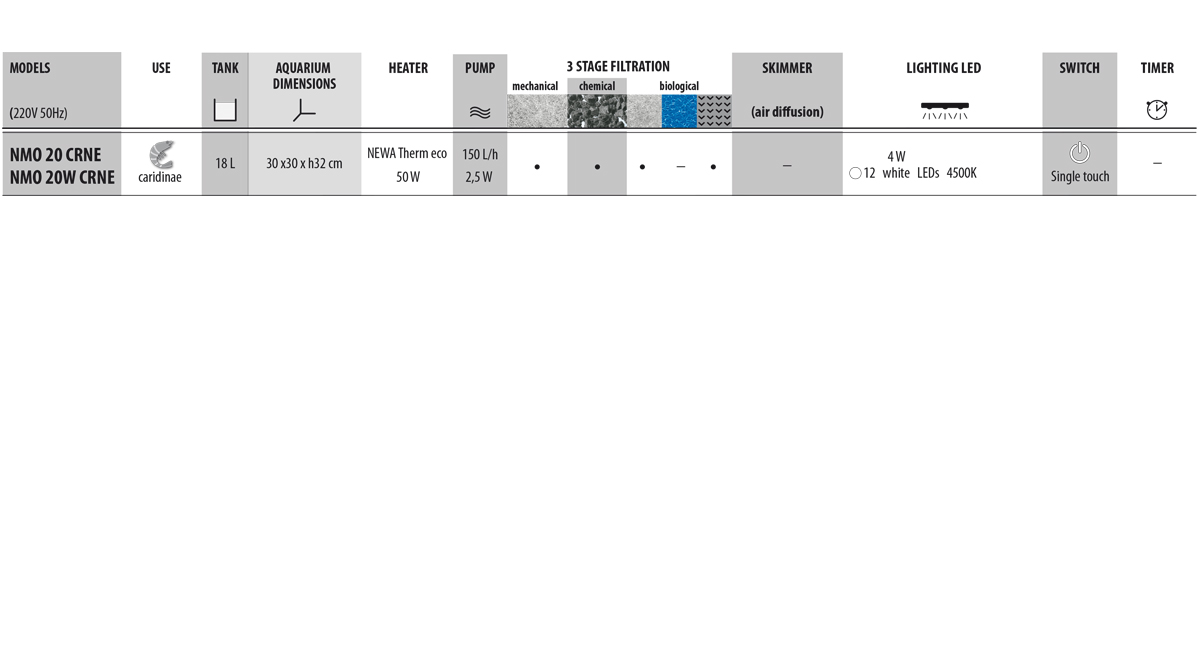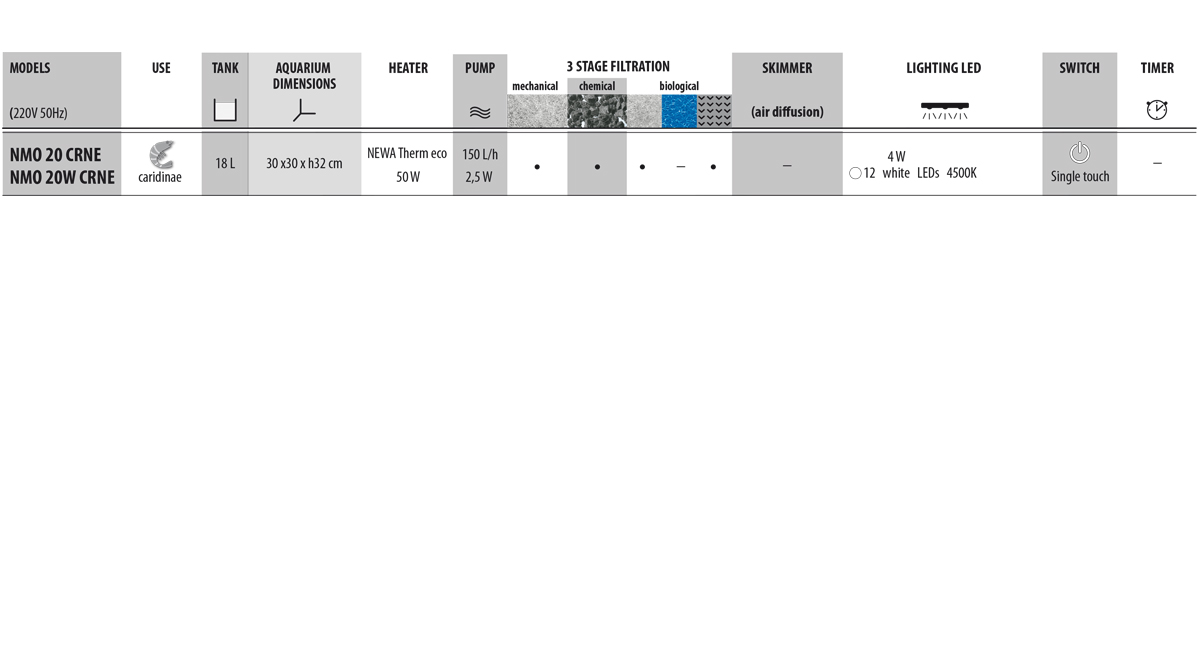 PACKAGING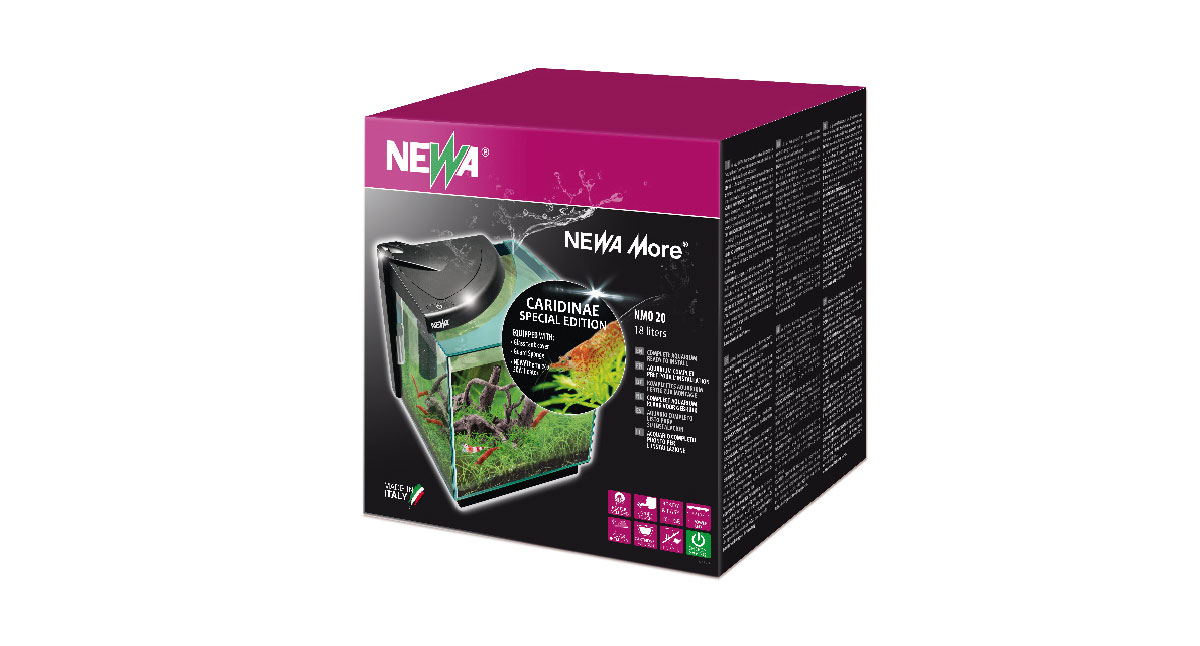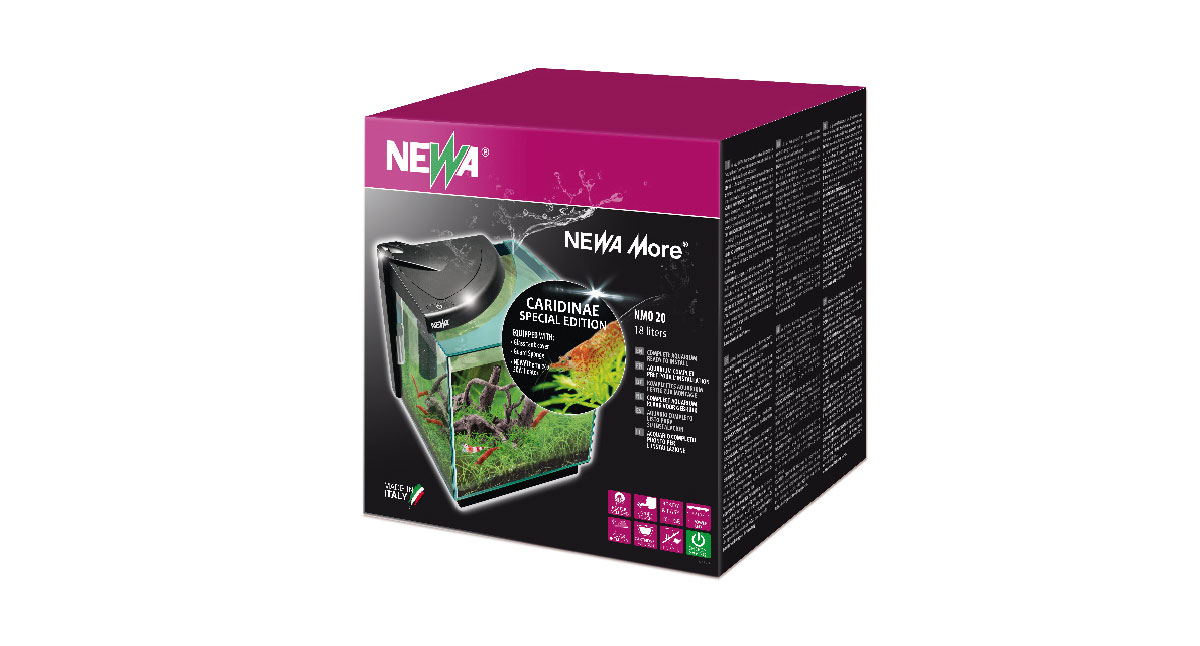 NEWA More Aquarium stand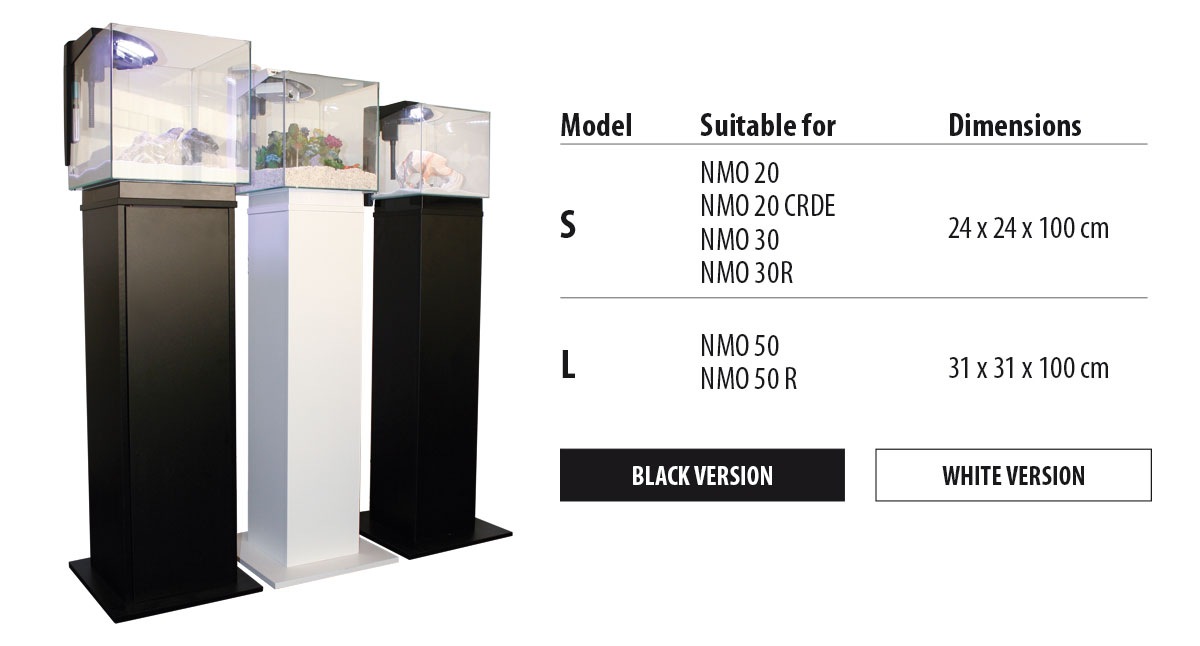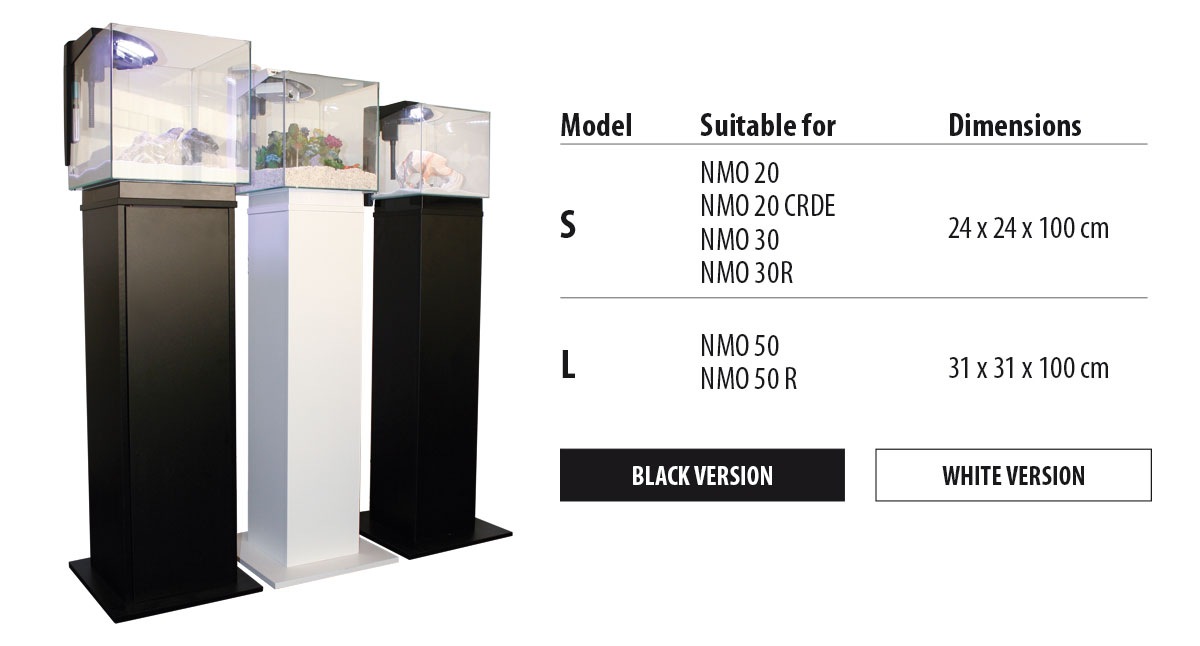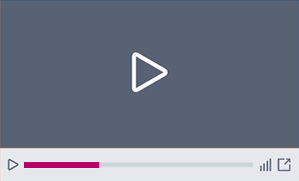 Titolo 01
clicca qui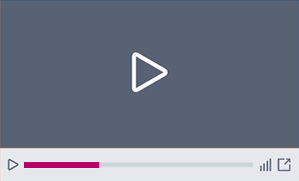 Titolo 02
clicca qui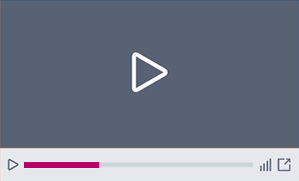 Titolo 03
clicca qui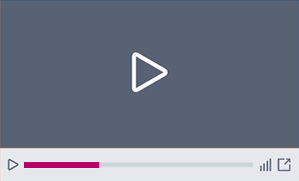 Titolo 04
clicca qui